We are interested in all phases of disease prevention, and obesity in our beloved pets are one of the biggest challenged we as pet owners are faced with. We will work closely with you to reduce your pet's weight. However, SUCCESS DEPENDS ON YOUR TOTAL COOPERATION!!
Meet "Tammy" our very own National Royal Canin Slimfit pet, Winner of 2013
5 of the most common reasons why your pet could be overweight:
OVEREATING!! (90% of all cases.)

Lack of exercise.

Lowered metabolism.

Emotional trauma.

Hormonal imbalances.
If you think your pet is overweight and not sure why. We advise you to make an appointment ASAP to diagnose the cause of the weight gain, which could lead to even more detrimental diseases.
PROBLEMS ASSOCIATED WITH OBESITY / OVERWEIGHT IN PETS INCLUDE:
Arthritis, "Slipped Disc" (spesially in Dachshunds) and torn or strained ligaments

read more...

Respiratory problems associated with endurance and exercise.
Heart problems from overwork.
Liver Disease.
Dystocia - difficulty in giving birth.
Diabetes

read more...

Heat Stroke - due to a decreased ability to control heat.
Skin problems

read more...

Excessive gas and/or constipation.
Lowered resistance to disease.
Anal gland impaction and infection.
Increased risk for anesthesia and surgery
Regular vet visits can also detect early onset of other metabolic conditions that also may lead to weight gain.
Tips for helping your pet loose weight.
Weight control for our pets is crucial these days especially since animals are exposed to increased amounts of highly palatable diets; more table scraps and treats being over fed and decreased exercise.
As pet owners ourselves, we know of the struggles and begging brown eyes, when it comes to keeping you pet fit and trim. Therefor we have a weight loss clinic available at Vetland, catering for every overweight pet's needs and nutrition. Keeping you updated with a weekly sms notification for weigh-ins and half way goal gifts AND free food for a little bit of motivation. Big brand food companies also have competitions running every year for the best weight loss pet.
Below are a few points you can do to get your dog or cat into shape:
Stick to the daily requirements of your pets nutritional needs, all good foods have on the back or side a feeding guide according to your dog/cats weight. Always feed the prescribed amount only per day divided into 2 to 3 feedings through the day.

No table scraps or left overs!!! Also keep doggy treats to a minimum.

Feed a good quality pet food to ensure satiety and good nutrition.

Daily exercise eg: walks, running after a ball, swimming, playing with toys that encourage exercise, joining puppy or older dog socialisation classes.

Enrol your pet into a weight loss clinic…this service is provided by Vetland Animal Hospital, free of charge, you may have to purchase specific reduced calorie diet foods and come in weekly for weigh-ins. It is worth the time and effort.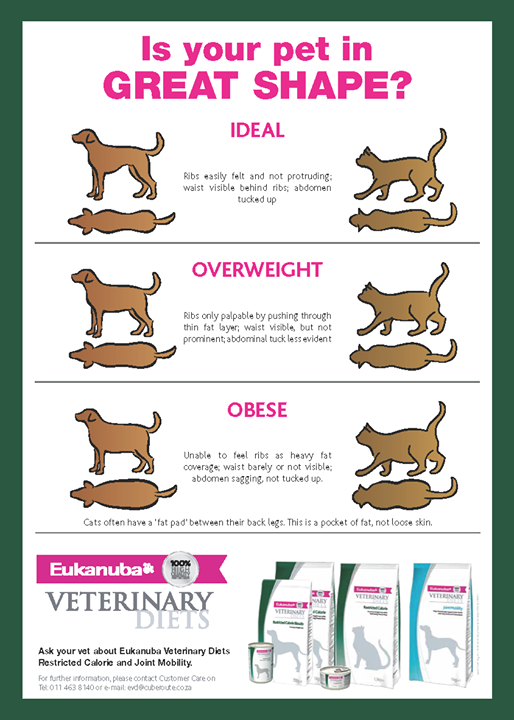 If you have any questions please contact us on 012 809 0186 or email: admin@vetland.co.za