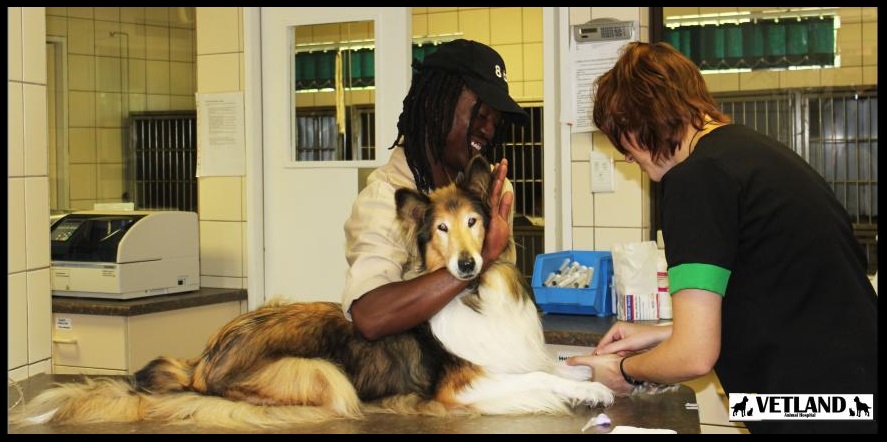 Our facilities at Vetland Animal Hospital are modern and of a high quality and standard because the practice has been purpose built as a veterinary hospital from the ground up.
We have two separate waiting areas to allow owners with nervous cats to keep their beloved pets away from dogs which may be waiting too.
We have two dedicated consultation rooms for seeing sick animals and a third consultation room which we use primarily for vaccinations of healthy animals (this is done to try and limit the exposure of your healthy pet to any infectious diseases which other patients may be carrying). All 3 rooms are equipped with microscopes as well as basic lab equipment so that a thorough clinical examination can be performed in the same room with you present.
Behind closed doors in our restricted access part of the hospital we have a large procedure room with three work stations all equipped with full anaesthetic machines so that the vet team can work on multiple animals at once. This is where we put animals under anaesthetic for theatre, put up drips for sick animals, perform our dental procedures and all other basic medical attention that your pet may need (such as bandage placement, wound cleaning, etc).
We have two dedicated surgical theatres, fully equipped to maintain your animal under anaesthetic and monitor all their vital body functions during surgery.
We also have a separate x-ray and sonar room linked to our procedure room where these diagnostic tests are carried out.
Lastly our wards are equipped with custom made stainless steel cages of various sizes to accommodate dogs and cats of all sizes, this may sound like a very unpleasant environment for your pet to be in while in hospital but the stainless steel cages enable us to thoroughly disinfect the cages everyday so that infectious disease are not spread between patients.
Please do not worry about your pet's comfort while in hospital, we take great pride in keeping all our patients comfortable while they are staying with us. Every cage is padded with newspaper which is superabsorbent and then covered with a blanket. These are changed frequently throughout the day when needed. All our patients will be supplied with extra blankets when it's cold and all the wards have air conditioning for those very hot days.
All patients have permanent access to water and are fed twice a day unless specifically restricted or increased for medical reasons.
We have two separate wards, again to specifically accommodate our cat patients in a separate area from our dog patients so as to try and minimise their stress while in hospital. In combination with the indoor hospital, Vetland offers it's patients the use of several large outdoor cages. These kennels will be utilised for those patients that require less intensive monitoring or that may be staying here for several days to weeks to recover from major orthopaedic surgery. This allows them a little more room to move around in, as well as providing them with some fresh air and sunshine.
Lastly our hospital is also equipped with a completely separate Isolation Ward where we look after our patients that have highly contagious diseases like Parvo Virus (Katgriep). This ward is fully equipped with all of its own equipment so that nothing (not even a thermometer) is used from our other wards to ensure no cross contamination. This is necessary in order to protect our other hospital patients from catching these terrible diseases.
Now that you have read all about our facilities, how about a tour through our hospital or facilities?